KAIROS was honoured to be part of the Quebec national event of the Truth and Reconciliation Commisison in Montreal this April, and to welcome our Filipina and Indigenous partner Vernie Yocogan Diano as part of this time of listening and learning. She celebrated Cordillera Day with the Filipino community in Montreal by talking about Indigenous rights and sharing in the KAIROS Blanket Exercise.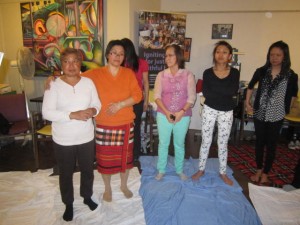 We then shared in a Women of Courage event with Quebec Native Women and the TRC itself and were thrilled to welcome a standing room only crowd of 250 people, as Vernie and Quebec Indigenous women shared their stories. Grand Chief Alice Jerome reflected the spirit in the room when she referenced one of the goals of the Indian residential schools system and said to huge applause, "they tried to kill the Indian in me—but I am resurrected!"
We were also blessed with the accompaniment of two members of the Indigenous rights Circle, Sr. Priscilla Solomon and Charles Bobbish, and by close collaboration with our francophone Québec partner, ROJeP. Together we held four consecutive Blanket Exercises for students and ran a joint ROJeP and KAIROS display that hosted many good if sometimes difficult conversations. On the final morning of the TRC, some of ROJeP's 40 member organizations united to offer a public Expression of Reconciliation. (Text in French only)
According to the TRC, the national event hosted 12,000 visits over four days, and over 5,000 people in 30 countries watched the testimonies online. Over 150 people gave statements in public and private; many told their stories publicly for the first time in their lives. While pain was very much a part of the event, so were courage and hope.